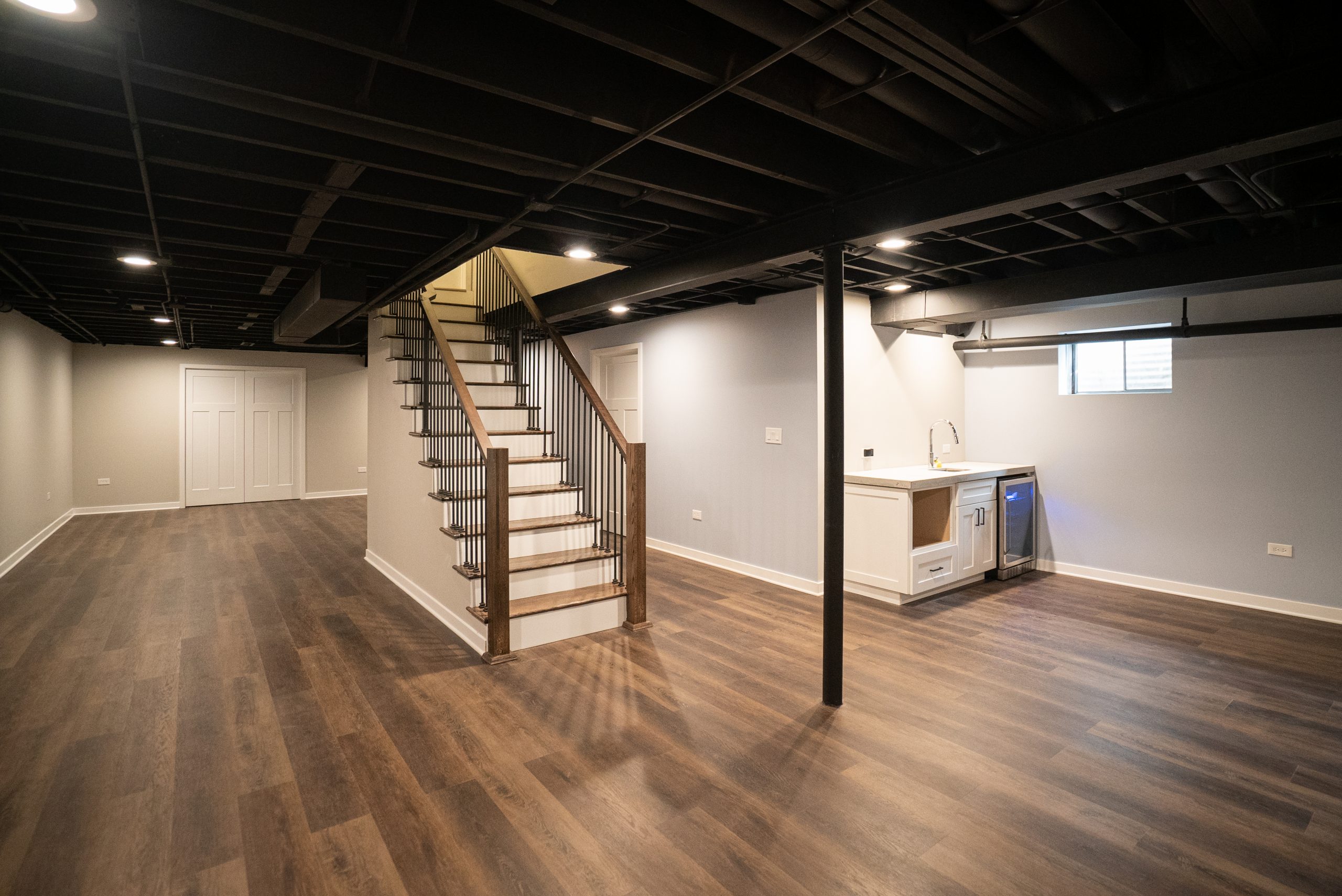 We can remodel your unfinished basement to include the following:
Extra bedroom
Extra bathroom
Family room
Playroom for kids
Exercise room
Home bar
Home office
Some may view their unfinished basement as nothing more than a storage area in their home. At R3 Contracting, we see your unfinished basement as an opportunity to add a new, usable space in your home. If you have an idea to finish or renovate your basement, talk to our team at R3 Contracting to bring your vision to life.
R3 Contracting is a licensed and insured contractor that provides basement remodeling in Hoffman Estates IL, Schaumburg IL, and throughout the Chicago area. Our team can collaborate with you on the design of your basement remodel to give you the new space you envision. We create a seamless process from the design through the building process and final reveal, and we will keep you involved through every step of the project.
Basement Finishing in Hoffman Estates & Schaumburg, IL
If your home has an unfinished basement, you have an opportunity to renovate the basement into a new, usable space that suits your aesthetic and lifestyle. Your basement can be transformed into a new bedroom or recreational space and if your basement is big enough, we can build multiple rooms for different purposes. No matter what ideas you have for your basement, our team at R3 Contracting can make your ideas a reality.
Basement Contractors in Hoffman Estates & Schaumburg, IL
R3 Contracting has a track record of providing quality remodeling and renovation services, including basement remodeling. You can expect a seamless, all-inclusive approach in which you are involved in every step of the process.
You will start with a consultation with our design team to discuss your ideas for the remodel. Our design professionals will help with the design of the space and create a digital model so you can see what the design will look like. Using this model, you can then provide feedback to help us finalize the design according to your vision. We can manage simple designs to create a single new room in your basement as well as more complex designs that include multiple rooms to completely transform your basement.
Once the design is finalized, we will coordinate with the design team and trade contractors to gather the materials and carry out the remodel. Throughout the process, there will be consistent communication between our team and the contractors involved, as well as with you to keep you updated and ensure that the process is carried out to your specifications. We are committed to providing excellent customer service as well as high-quality results that exceed your expectations for your basement remodel.

Call R3 Contracting for Basement Renovations in Hoffman Estates & Schaumburg, IL
R3 Contracting provides comprehensive basement remodeling services to transform your unfinished basement into a fully functional space. Our team will work closely with you to carry out your vision and take you from the initial design to the final reveal.
Give us a call at (224) 764-0461 for more about our basement remodeling in Hoffman Estates and Schaumburg, IL.