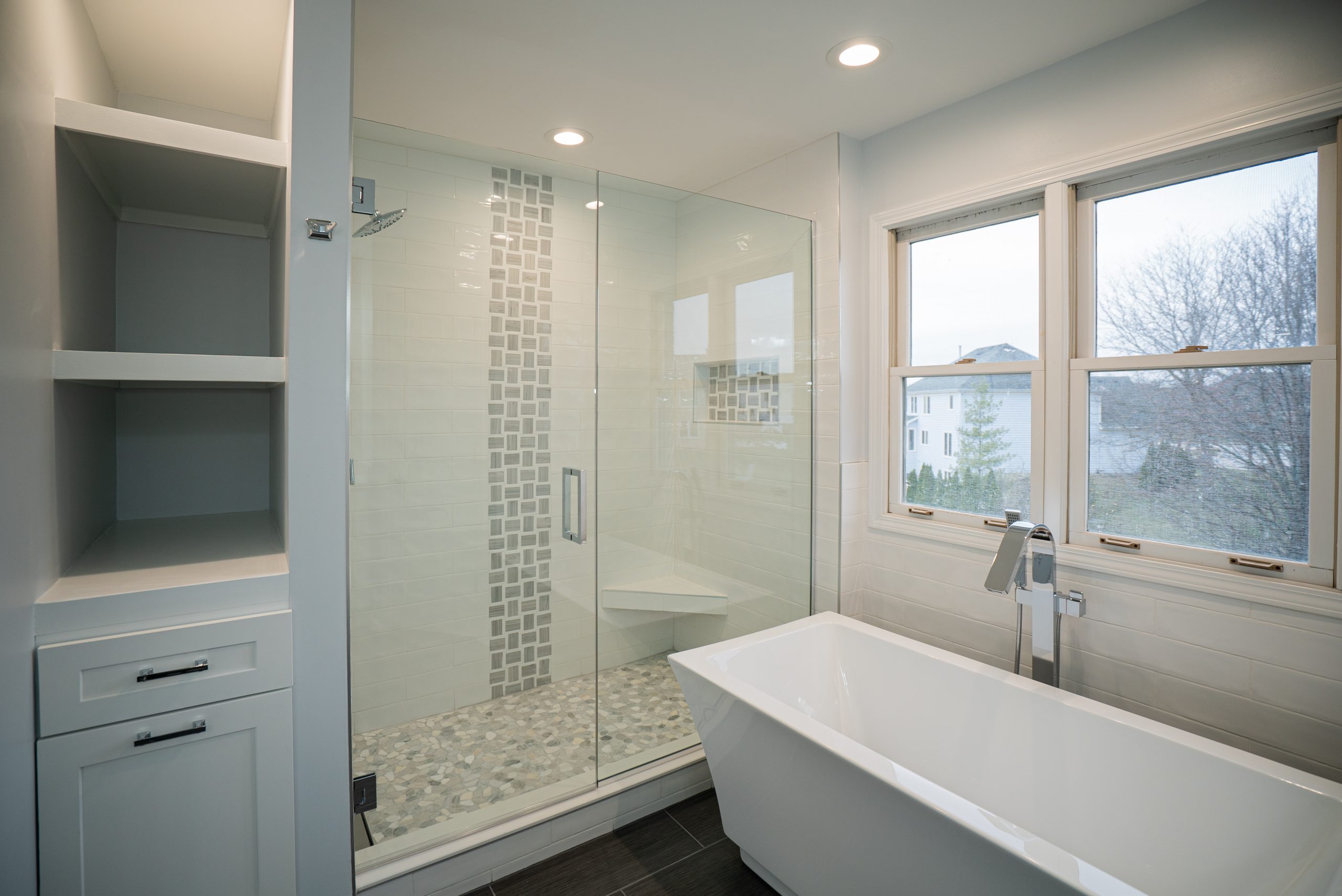 The bathroom in your home should be much more than a functional space. With the amount of time people spend freshening up and getting ready in the bathroom, it should provide a level of comfort. You can also transform your bathroom into a relaxing refuge with the addition of a jacuzzi or a bigger, custom-built shower. If your bathroom falls short in accommodating your needs or providing the comfort you desire, you can improve it with a bathroom remodel.
R3 Contracting provides bathroom remodeling in Hoffman Estates IL, Schaumburg IL, and throughout Chicagoland. We work directly with our clients to incorporate their vision into a full bathroom remodel and build a bathroom that best suits their functional needs, comfort, and aesthetic. As a licensed and insured bathroom contractor, we can manage every step of the remodeling process and deliver a high degree of professionalism and quality, long-lasting results.
Bathroom Remodel Contractors in Hoffman Estates & Schaumburg, IL
At R3 Contracting, we have a proven record of providing impressive bathroom remodeling services for master bathrooms and small bathrooms. We take a client-centered approach to involve you with the planning and execution so that your new bathroom is built according to your vision. It is important for your bathroom remodel to suit your functional needs while also providing a comfortable and aesthetically pleasing environment.
Your bathroom renovation will begin with a discussion of your vision with our design team so we can create a digital model. During this stage, we will discuss the desired aesthetic, features, and materials to finalize your bathroom design before the building begins. We will then coordinate the remodel and get the materials needed for the building of your new bathroom. Throughout the project, we will keep you updated on our progress and help ensure that the process is as smooth as possible.
Your bathroom remodel can include the following:
Bathroom flooring: We can discuss your bathroom flooring options and help you choose between styles of tile, vinyl, stone, and concrete flooring.
Bathroom cabinets: The bathroom cabinets should provide the storage space you need while contributing to the desired aesthetic. We can help you decide on the style and layout of the cabinets according to your preferences.
Bathroom vanity: We can help you choose a bathroom vanity that blends seamlessly with the design and aesthetic of the bathroom design while also accommodating your specific needs.
Countertops: The materials and style of your bathroom countertops can contribute greatly to the design. We can also design the countertops to give you ample counter space.
Bathtub: If you enjoy soaking in the tub, we can incorporate the bathtub or jacuzzi you want in your bathroom.
Shower: We can build a custom shower as part of your bathroom remodel and incorporate comfort features like multiple shower heads.
Fixtures: We can go over your options for fixtures such as the sink, toilet, faucets, and shower heads.
Bathroom lighting and mirrors: The bathroom lighting and mirrors should make you feel confident when freshening up or getting ready. We can help design the lighting and mirror layout in your bathroom for functionality and comfort.

The bathroom is a very personal space which is why it is best to have a bathroom design that best accommodates your needs and comfort. At
R3 Contracting
, we will provide a seamless bathroom remodel experience to bring your vision to life and build your ideal bathroom.
Call R3 Contracting for Bathroom Renovations in Hoffman Estates, IL
Our professionals at R3 Contracting can help you transform your bathroom into a more comfortable and aesthetically pleasing environment that suits your personal needs with our bathroom remodeling services. You can expect a high level of professionalism and long-lasting, quality results when you work with us.
You can reach us at (224) 764-0461 for bathroom remodeling in Hoffman Estates, IL and Schaumburg, IL.