Since the 1990s, open floor plans have been the main architectural style used in homes. The reason open floor plans are so popular is because this layout makes excellent use of the available space and makes homes seem bigger. Open floor plans are also good for hosting holiday get-togethers so family and friends can be together and socialize in one accommodating space instead of in separate rooms.
An open floor plan is when two or more rooms are part of a larger common area. Kitchens, living rooms, dining rooms, and more can be incorporated into an open floor plan. If you want to create more open space in your home, you can rearrange the space and add new features that define the open space concept, or you can work with a professional remodeling contractor to remodel your home.
Are Open Floor Plans a Good Idea?
Open floor plans can benefit the common areas of a home in several ways. Opening the space between living rooms, dining rooms, kitchens, and other areas can make the same sized space seem bigger, allow for better lighting, and make it easier to socialize with family and guests without being divided by walls.
The following are the main benefits of open floor plans:
More space: Converting a space into an open floor plan does not create any more physical space but can make the same amount of space feel much bigger. Eliminating separations between rooms including walls and doors creates more open space and allows for easier design continuity.
Better lighting: Removing walls to create an open space will allow more natural light into areas of the home that were not getting enough before. The area will feel warmer and more inviting with the better flow of natural light and unobstructed views out the windows will blend the indoor and outdoor space.
Improved foot traffic flow: Creating more space allows for better flow of foot traffic. Open floor plans have more space for people to move between rooms and you can also arrange furniture and other features to direct foot traffic in a more efficient way.
Togetherness: Open floor plans can blend spaces together such as living rooms, kitchens, and dining rooms. This allows families to easily communicate with each other and keep an eye on children from different areas within the open space. Open floor concepts are also great for entertaining guests as they can easily move between the kitchen, living room, and dining room and socialize with others in any of these areas. Hosts can interact with their guests while preparing meals.
Noise travel: Breaking down the barriers to create an open floor concept allows noise to travel easier between spaces. This makes it much easier for people to talk to each other from different areas and you can listen to music or the TV from the living room while preparing food in the kitchen.
How to Create an Open Floor Plan in Your Home
If you want to convert your home into an open floor plan, one option is to work with a professional home remodeling contractor to remodel the space. Our professionals at R3 Contracting offer whole house remodeling services and can design and build an open floor plan for your home. You can also take the following steps to further open and define the spaces within the open concept.
Open Floor Plan Design
The trick with open floor plans is to combine living spaces, yet still define each space to give it its own identity. Here are some design ideas to further refine the spaces within your open floor plan:
Add area rugs: Adding area rugs to the open floor plan is an easy way to define specific spaces. For instance, you can use a large area rug to define the living room area. A good area rug surrounded by living room furniture can really tie the space together.
Rearrange furniture: Another way to define individual spaces within an open floor plan is to rearrange the furniture. You can arrange furniture within a space to define it, such as with living room furniture, and you can use furniture like dining room tables to create boundaries between spaces like the living room and kitchen. You can also arrange furniture in a way that pulls multiple spaces together, such as having the couch in the living room facing the dining room area to allow for socializing between the two spaces.
Direct foot traffic: Arrange the furniture in a way that directs foot traffic between the spaces, not through them. You can do this by creating space for a walkway behind couches and chairs in the living room and making walking paths that connect the spaces.
Add simple barriers: If you want to further separate a specific space, such as a corner used as a home office, you can use privacy screens, large potted plants, or bookshelves and other furniture to act as simple barriers. These barriers can also add sound dampening.
Design continuity: Choose furniture with similar design elements for each space to create continuity. For example, living room furniture like lamps and end tables can have a similar design and appearance to the dining room table.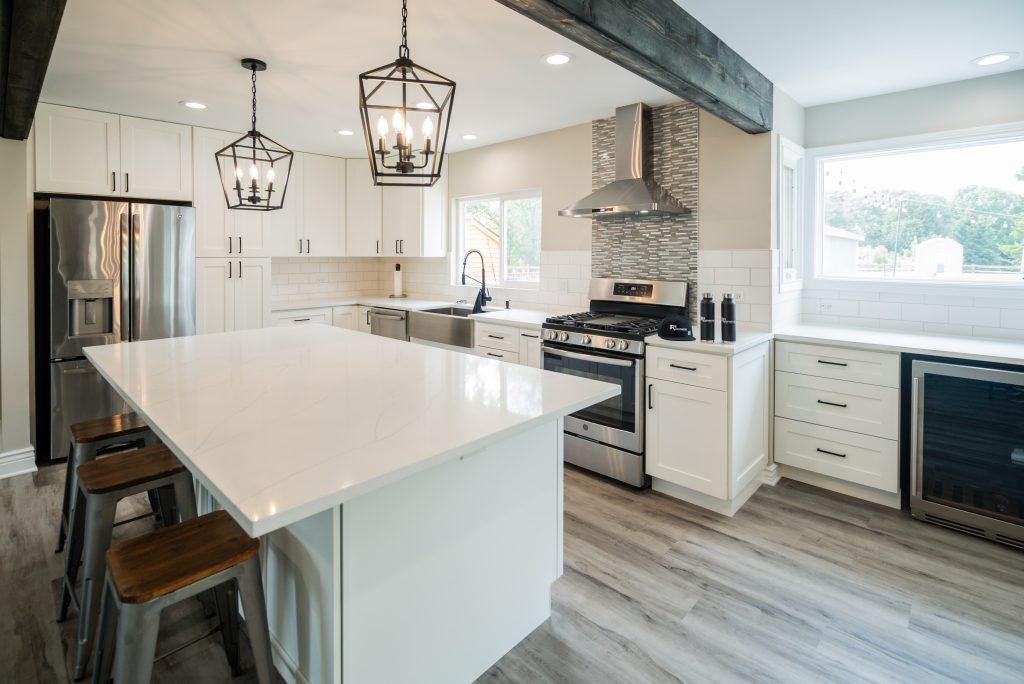 Use Focal Points to Define Spaces
Another way to create defined spaces within an open floor plan is to incorporate a focal point and build around it. The following are some ideas to create spaces around a focal point:
Incorporate a fireplace: A fireplace can make a great focal point in a living room. You can arrange the furniture around the fireplace and add new design elements that match the décor of the fireplace.
Complementary design elements: Each space should have a focal point. The dining room area has the table; the focal point of the living room can be an area rug, couch, or fireplace; and the kitchen may have a counterspace or island as the focal point. Choose a focal point that defines the area and incorporate design elements that complement the focal points.
Update focal points: If the focal point of an area is drab or outdated, update the focal point to revitalize the space. For example, you can repaint a drab fireplace or replace a worn-out dining room table.
Open Floor Ideas for Small Spaces
If your home does not have an open floor plan, it can be difficult to create space within enclosed living rooms and bedrooms. The following ideas will help you make small spaces feel more open:
Get a sectional sofa: Sectional sofas can provide as much seating space as a normal couch and a couple of upholstered chairs while taking up less floor space.
Use light colored paint: Using light, neutral paint colors for a room can help make the space seem bigger.
Add an eating bar in the kitchen: If you have a small kitchen, you do not need to have a kitchen table taking up most of the space. You can add an eating bar to the counterspace to provide a place to eat without taking up more floor space.
Add lighting: Adding brighter lighting in small spaces can make the space seem bigger than dim lighting. You can also consider adding dimmer switches to turn up the brightness.
Mount the TV: Instead of putting your TV on a stand that takes up space, mount the TV to the wall. This frees up space by eliminating the need for a TV stand or entertainment center.
How Do I Redesign the Layout of My House?
If you want to change the layout of your home and create an open floor plan, it is best to work with a home remodeling contractor. Converting to an open floor plan may involve knocking down walls and remodeling the kitchen with new features like countertops and islands to open the space.
Our professionals at R3 Contracting can help convert your home to an open floor plan. We will first discuss your idea for your project with you and create a design for the new floor plan that works with your home and fits within your budget. Once the work begins, we will provide consistent communication to keep you updated on the progress.
Home Remodeling with R3 Contracting
Open floor plans are popular in homes because they optimize the use of the space to make the home seem bigger, allow for ease of socializing and communication, improve natural lighting, and help direct the flow of foot traffic. The tips mentioned above can help you create more openness in your home and maximize your open floor plan. If you want to convert your home into an open floor plan, talk to our professionals at R3 Contracting.
At R3 Contracting, we provide whole house remodeling services that include converting homes to open floor plans. Open floor remodeling projects can include remodeling of living rooms and dining rooms as well as kitchen remodeling to create an open floor plan that seamlessly blends these spaces. We will work with you to refine and finalize the design of your project and keep you updated through the remodeling process.
You can call R3 Contracting at (224) 764-0461 for more information about our home remodeling services in the Chicago area.
---
Related Posts